Welcome to our December newsletter!
The headlines are:
Details of our upcoming meeting (plus next three meetings);
A new section for our subgroups;
Resolutions for 2022;
Cheryl and Rosa in WI Life;
Our calendar for the month.
Please see the bottom of the newsletter for our entire calendar and reoccurring information.
We always include the dates, times, and locations of our subgroups in every newsletter.
New to The Hive WI? Click here!
December Meeting
"Christmas Chips!"
Deck the hall with portions of chips!
We will have 30 portions of chips to warm our hands and hearts.
We will have carols to warm the atmosphere (and our vocal cords for those of you who want to join in!).
We'll even be warming our brain cells with a quiz.
The doors will be open to keep the air flowing, so despite all the warming you may still want to bring your big coat.
Sauces and chips will be provided when you get there, but please bring your own cutlery if you are a chips-and-cutlery kind of person.
The hall may get chilly, but we think it is the perfect place to rekindle our friend-chips. Aww.
If you have bought gifts to donate to Broxtowe Women's Project (BWP), this is the meeting to bring them in.
Chris from BWP will talk for 15 minutes or so about where the gifts are going and why they are so appreciated and needed. Please be aware that she may touch on the topic of abuse.
She will be staying for chips and carols and you're more than welcome to strike up a conversation with her one-to-one.
Thank you to everyone for "chipping" in!
→ The next three months:
January: Cake Decorating

February: Creative drawing
March: Annual Meeting
→ Our subgroups in December
Wednesday 15, 19:00: Supper Club: Anatolia
Saturday 18, 14:00: Crafternoon
Thursday 30, 18:45: Book Club (Zoom): Hercule Poirot's Christmas by Agatha Christie
Scroll down for the details of this month's subgroups.
Don't Forget!
What to bring to the next meeting
Cutlery;
Mask and hand sanitiser;
Your own drink or mug if you want to bring one;
You can message us about our Covid precautions if you are nervous and want to check in with us;
Donations for Broxtowe Women's Project.
Please note that we will have the big doors open to keep the air flowing. It is a good idea to wear warm clothes. We can even fill a hot water bottle up for you if you want to bring one!
Drinks are currently free to reduce contact.
New Section! Subgroups
December 2021
Wednesday 15, 19:00: Supper Club: Anatolia
Saturday 18, 14:00: Crafternoon
Thursday 30, 18:45: Book Club (Zoom): Hercule Poirot's Christmas by Agatha Christie
Please note that we have fewer subgroups this month due to Christmas and New Year.
Book Club
Hercule Poirot's Christmas by Agatha Christie
Agatha Christie's seasonal mystery thriller, reissued with a striking new cover designed to appeal to the latest generation of Agatha Christie fans and book lovers.
It is Christmas Eve. The Lee family reunion is shattered by a deafening crash of furniture, followed by a high-pitched wailing scream. Upstairs, the tyrannical Simeon Lee lies dead in a pool of blood, his throat slashed.
But when Hercule Poirot, who is staying in the village with a friend for Christmas, offers to assist, he finds an atmosphere not of mourning but of mutual suspicion. It seems everyone had their own reason to hate the old man…
The Book Club is currently choosing books for 2022.
This is the perfect time to come along if you haven't come already!
Supper Club
Anatolia: 88 High Road, NG9 2LF
Supper Club is full this month. If you're unable to attend please get in touch as soon as you can so we can open up your spot for somebody else.
Crafternoon
Bring your own crafts.
Please email thehivewi@gmail.com or Hayley on Facebook if you would like to come to the craft group. Due to Covid, we can only meet in small groups and need to keep track of numbers. Thank you!
Other News
WI Life Magazine
Did you see us??
I was in WI Life Magazine this month talking about the podcast that I started while shielding. It is called The Jam Pact and is inspired by the WI campaigns.
I also opened up about my experience growing up with a severe and complex disability.
Joining The Hive WI marked a turning point in my life and I owe you all a great deal for making my life so much better!
I will see you when I get my booster and it is safer for me to mix with others inside again.
Also… after the interview they offered me a regular column in the magazine, so you will probably be seeing my name in print again! 😲
Resolutions 2022
How to find out more!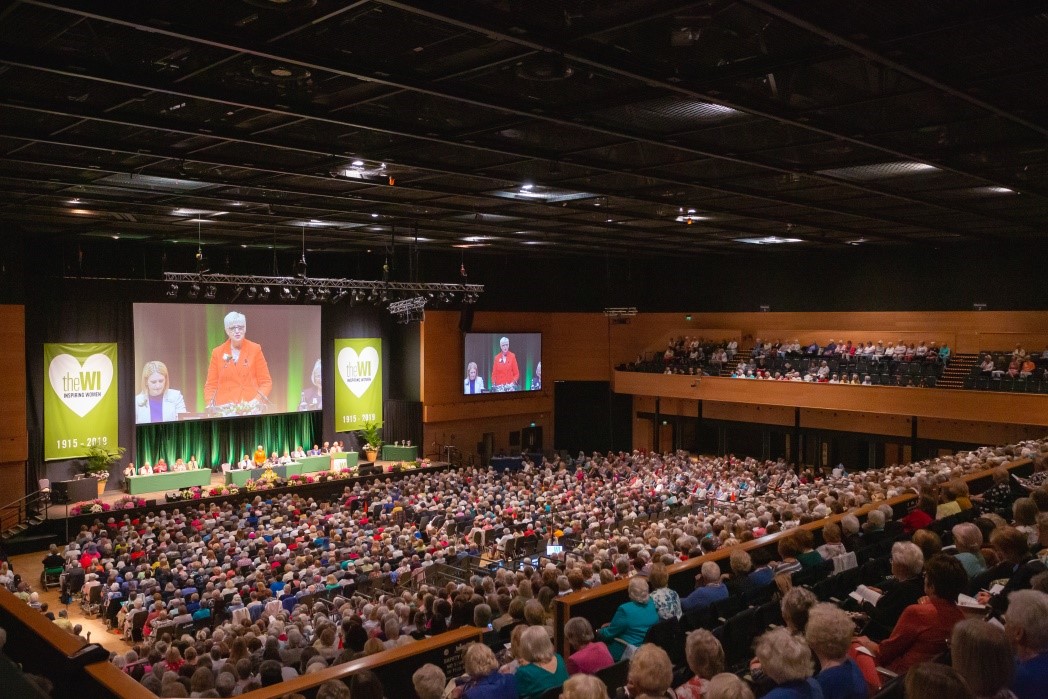 The resolutions appeared in WI Life this month.
They are:
Fit for Purpose – Fit for Girls
Appropriate Sentencing of Non-Violent Women Offenders
Equality in Law for the Menopause
Women and Girls with ASD and ADHD Under-Identified, Under-Diagnosed and Under-Supported
Tackling Digital Exclusion
Look out for an email from us with a link on how to vote.
If you're on our Facebook group and have an issue close to your heart, there's no need to wait until May to talk about it! We love reading your posts and hearing about your passions.
To find out more, the NFWI has put together a PDF document for each of these resolutions. Get them here!
If you're new to the WI and not sure what this is all about… this video tells you everything you need to know and more:
On 24th October 1918, at the NFWI's second Annual Meeting at Cathedral Hall in Westminster, WI members voted on and passed the WI's first resolution, thus establishing the first WI campaign. This was just the beginning, and the last 100 years have seen the NFWI, federations, WIs and members get behind an incredible range of social policy, health, food and agriculture, education, environment and international campaigns, with WI successes ensuring increased public awareness and important policy changes.
December Calendar
Everything altogether
Wednesday 8, 19:30: Christmas Chips
Wednesday 15, 19:00: Supper Club: Anatolia
Saturday 18, 14:00: Crafternoon
Thursday 30, 18:45: Book Club (Zoom): Hercule Poirot's Christmas by Agatha Christie
Please email thehivewi@gmail.com or Hayley if you would like to come to the craft group.
Any member can join us on Zoom for the committee meeting or send us feedback to discuss.
Recurring Events
Your shortcut to the subgroups
CAKE Fighters: Varying dates and times
Publess Quiz: Every four months (20:00)
Main Meeting: Every second Wednesday (19:30-21:30)
Crafternoon: Every third Saturday (14:00-16:00)
Committee Meeting: Every fourth Wednesday (18:30)
Cafe Society: Every last Wednesday of the month (14:00)
Thursday Book Club: Every last Thursday (19:00)
Walk 'n' Talk: Every last weekend of the month (10:00)
Please get in touch if you would like to lead a subgroup.
Find Us Online
Email: thehivewi@gmail.com
Facebook: facebook.com/thehivewi
Facebook group (members only): facebook.com/groups/thehivewi
Twitter: twitter.com/thehivewi
Website: thehivewi.com
You can also search for us on Google Calendar using our email address.
New to The Hive WI? Click here!